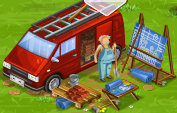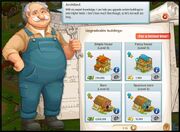 The Architect, Steve Screwdriver, appears once or twice per month (about every 3 weeks) on random days to upgrade the buildings on your Main Farm, Gourmet Farm, Flower Farm and Greenhouse. He starts showing up when you have at least one building that he can help you upgrade. On the days he is available, he will make 3 appearances of 5 hours each during that day with rest periods of 2 to 4 hours between each 5 hour work period. For example, his 3 work periods could be 00:30-05:30, 09:00-14:00, and 17:00-22:00. Your upgrade only has to start while he is available and will finish even after he leaves so have your money and your upgrade slot available.
*On January 14th, 2016 Steve unveiled some brand new levels of improvement for nearly all up-gradable buildings.
Here are the prices of The Architect levels to help everyone be prepared when he shows up.
Main Farm
| Building | Level | Price |
| --- | --- | --- |
| Simple House | 5 | $250,000 |
| Tropical House | 5 | $250,000 |
| Viking House | 5 | $250,000 |
| Fancy House | 5 | 7,900 Gold |
| Barn | 6 | $4,000,000 |
| Spacious Barn | 6 | 14,999 Gold |
| Field | 7 | $1,400,000 |
| Fertile Field | 7 | 19,300 Gold |
| Luxury Farmhouse | 7 | $7,500,000 |
| Chicken Coop | 7 | $1,200,000 |
| Irish Chicken Coop | 7 | $1,200,000 |
| Pigsty | 7 | $2,600,000 |
| Tropical Pigsty | 7 | $2,600,000 |
| Cowshed | 7 | $2,900,000 |
| Tropical Cowshed | 7 | $2,900,000 |
| Silo | 5 | $2,800,000 |
| Composter | 5 | $3,200,000 |
| Gate | 5 | $2,500,000 |
| Fence | 5 | $2,400,000 |
| Apple orchard | 7 | $2,200,000 |
| Cherry orchard | 7 | $2,500,000 |
| Windmill | 6 | $3,000,000 |

Gourmet Farm
| Building | Level | Price |
| --- | --- | --- |
| Simple House | 5 | $250,000 |
| Tropical House | 5 | $250,000 |
| Viking House | 5 | $250,000 |
| Fancy House | 5 | 7,900 Gold |
| Cabin | 7 | $7,500,000 |
| Bakery | 7 | $18,000,000 |
| Garden | 7 | $8,000,000 |
| Fence | 5 | $2,400,000 |
| Gate | 5 | $2,500,000 |
| Silo | 5 | $7,000,000 |
| Composter | 5 | $6,200,000 |
| Water Mill | 6 | $3,800,000 |
| Duck Coop | 7 | $5,400,000 |
| Viking Duck Coop | 7 | $5,400,000 |
| Donkey Stable | 7 | $6,500,000 |
| Viking Donkey Stable | 7 | $6,500,000 |
| Goat Stable | 7 | $2,800,000 |
| Almond Orchard | 7 | $5,500,000 |
| Peach Orchard | 7 | $9,000,000 |
Flower Farm
| Building | Level | Price |
| --- | --- | --- |
| Simple House | 5 | $250,000 |
| Tropical House | 5 | $250,000 |
| Viking House | 5 | $250,000 |
| Fancy House | 5 | 7,900 Gold |
| Shop | 8 | $32,500,000 |
| Apiary | 7 | $10,700,000 |
| Meadow | 7 | $11,500,000 |
| Fence | 5 | $2,400,000 |
| Gate | 5 | $2,500,000 |
| Mixing Plant | 5 | $1,000,000 |
| Distillery | 8 | $13,200,000 |
| Olive Grove | 7 | $13,000,000 |
| Citrus Orchard | 7 | $11,450,000 |

Greenhouse
| Building | Level | Price |
| --- | --- | --- |
| Greenhouse | 6 | 29,000 Gold |
| Greenhouse | 7 | 54,500 Gold |